I've always been drawn to stories of persecuted Christians.  When I was younger I devoured the stories of men like John Wycliffe and William Tyndale.  In more recent years, I've been so interested in Pastor Richard Wurmbrand and Dietrich Bonhoeffer.
From my insulated, American lifestyle, persecution is unthinkable.  We get caught up in "Merry Christmas" wars while a Christian woman is being raped with a cattle prod in China.  We get worried about our kids learning about Islam i school while a Christian couple is sentenced to death in Pakistan.
The unfathomable, backwards mentality persecution of followers of Christ is current.  Its NOW, not in the 1600's.
I highly suggest EVERY Western Christian educate yourself on the cause of martyrs.  Personally, I'm still praying about what God would have my family and myself to do help.  The first thing is praying for the persecuted themselves and the persecutors.  Here are some great resources to get yourself knowledgeable about persecution; past and present: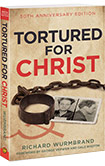 Click on the picture for a free copy from Voice of the Martyrs 

Bob Fu and his wife escaped China when they found they were expecting their first child.  It is illegal to get pregnant without permission (even with your first).
Foxe's Book of Martyrs – John Foxe (free, online reprinting)

I first read this as a teenager.  I think its a great introduction for students and teens.